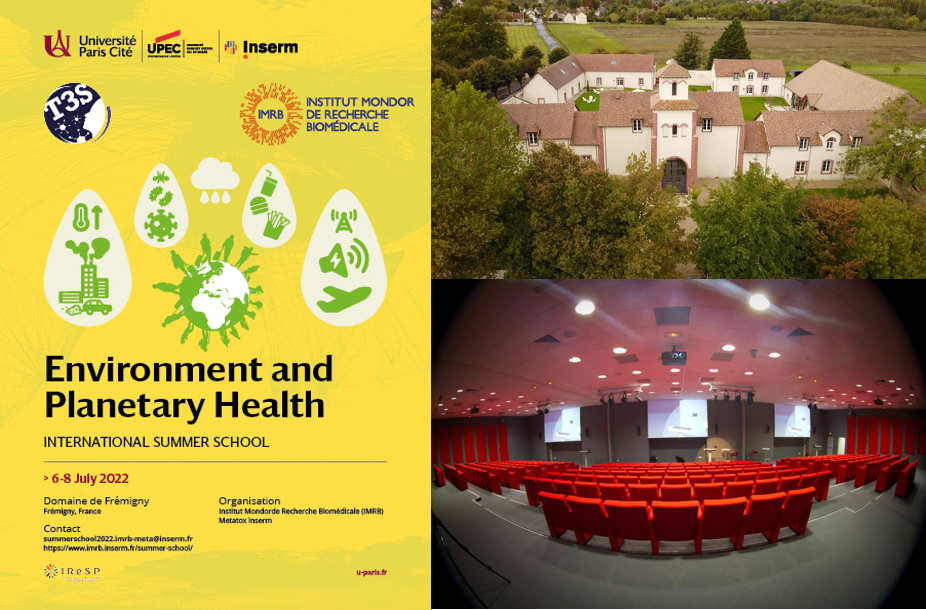 IMRB, and Metatox team of the University of Paris, are organizing an international summer school dedicated to the environment and planetary health on July 6-8, 2022, at the Domaine de Frémigny in Essonne.
The school is open to doctoral and post-doctoral students and accepts applications to participate in our international event.
It is commonly accepted that the environment in all its aspects can be a source of stress, being implicated in the development of chronic diseases. Thus, infectious agents, pollution and chemicals, noise as well as nutritional and psychological stress represent what is called the 'exposome', to which people are continuously exposed during their life and which contributes to determine the health status of the population.
The second edition of our International Summer School will be dedicated to environmental stress and its influence on health and disease.
We will offer four main sessions on the ENVIRONMENT as a major source of communicable diseases that will address:
1) zoonoses and infections;
2) the exposome;
3) exposome-epigenetic interactions; and
4) agencies and their role in prevention and sustainability.
Contact: summerschool2022.imrb-meta@inserm.fr
Application deadline: April 15, 2022
---
IMRB Summer School, July 3-5, 2019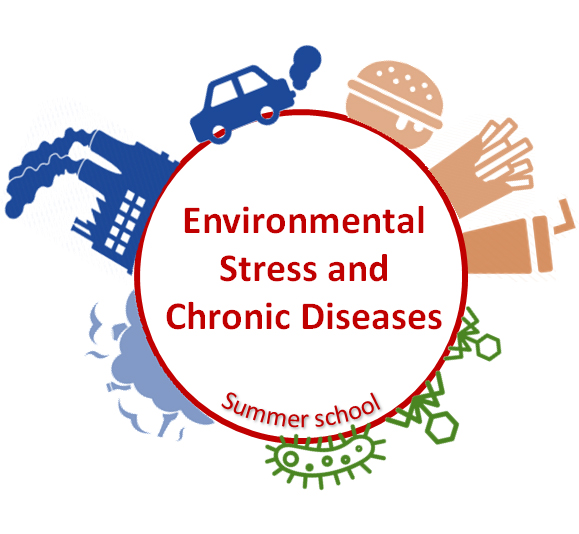 The first edition of the IMRB International Summer University took place from 3 to July 2019 at the ANSES headquarters in Maisons-Alfort. It was devoted to environmental stress in the development of chronic diseases. Four main sessions were proposed:
1) nutritional stress and infection in the development of diseases;
2) pollution and inflammation in chronic diseases;
3) molecular mechanisms of inflammation; and
4) role of environmental agencies and start-ups in combating the burden of chronic diseases.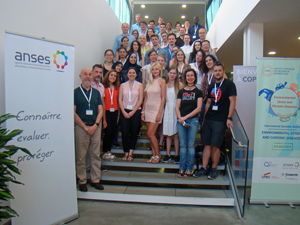 Each session was an opportunity to hear from CIRM and foreign researchers at the forefront of the proposed scientific themes, as well as representatives of French and European environmental agencies and start-ups.
A visit to the environmental laboratory at the University of Paris Est, a workshop on project design and short presentations from selected abstracts are integrated in the program, enabling young researchers to work directly with senior investigators to promote their scientific training.
Speakers :
Bin GAO (Laboratory of Liver Diseases, NIH Bethesda, USA), Geneviève DERUMEAUX (IMRB), Fatima CLERC (IMRB), François HUAUX (Université catholique de Louvain, Brussels, Belgium), Sophie LANONE (IMRB), Haidong KAN (School of Public Health, Fudan University, Shanghai, China), Roberto MOTTERLINI (IMRB), Sudha RAO (University of Canberra, Australia), Jesus ARAUJO (Cardiovascular Center, UCLA, Los Angeles, USA), Gérard LASFARGUES (ANSES, French Agency for Food, Environmental and Occupational Health & Safety), Arnoud AKKERMAN, (National Institute for Public Health and the Environment, Netherlands), Eric POINCELET (PlanetWatch 24 – Pollutrack, France), Robert BAROUKI (University of Parsi Descartes, Paris, France), Basile CHAIX (Pierre Louis Institute of Epidemiology and Public Health, Paris, France)