GEIC2O: Genetic and Environmental interactions in COPD, Cystic Fibrosis and Other (rare) respiratory diseases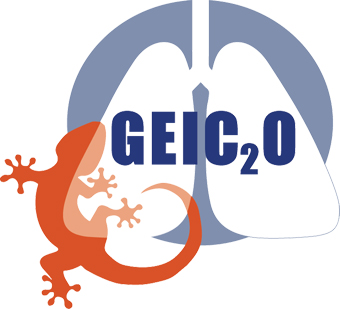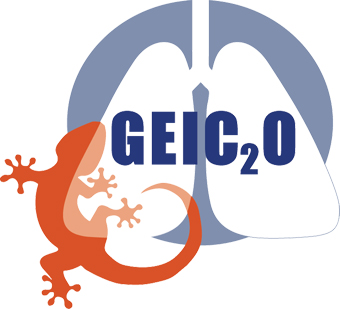 Research theme:
The general scientific objective of GEIC2O team is to understand the interplay between genetic and environmental factors in the development of lung diseases throughout the life (namely from children to adults). We particularly focus on lung diseases of non-genetic (Chronic Obstructive Pulmonary Disease or COPD) and genetic (Cystic Fibrosis and surfactant disorders) origins.
The large pluridisciplinarity of GEIC2O team staff comprising MD (lung specialists – adult and pediatricians, occupational medicine, geneticists, ear/nose/throat specialists, and lung pathologist) as well as PhD (in cellular and molecular biology, biochemistry, genetic, bioinformatics and respiratory physiology) allows us to develop a comprehensive scientific approach ranging from in vitro experimental work to preclinical models and patient cohorts.
Overall, our research is developed through three main axes: 1/ Molecular bases of cigarette smoke-induced COPD; 2/ Genetic bases of CF and surfactant disorders; and 3/Role of environment in the course of lung diseases (in the general population and in the context of occupational exposures).
Main results (last 5 years):
– Role of new molecular mechanism (PGE2, p53, mesenchymal stem cell features of lung fibroblasts) in COPD pathophysiology (Thorax 2018, Cell Death Dis 2018, JACI 2017, AJRCMB2016, Arch Toxicol 2015, AJRCCM 2013)
– Implementation of a new strategy, which combines in silico and in vitro analyses to anticipate the occurrence of "splicing-causing" mutations in CFTR exons (Human Mutat 2014, 2013)
– First description of the molecular mechanism of an exonic SFTPC mutation, which unmasked a splicing defect (Eur J Human Genet 2017)
– Expansion of the phenotypic spectrum of interstitial lung disease i.e. due to NKX2-1 or ABCA3 mutations (Respir Med 2017, ERJ 2014)
– Step towards personalized therapy of CF, with the identification of new therapeutic targets (Br J Pharmacol 2016, Hum Mutat 2013, Int J Biochem Cell Biol 2013)
– Identification of the relations between asbestos exposure, pleural plaques, and occurrence of mesothelioma, lung cancer or colon cancer in asbestos-exposed patients (EHP 2017, ERJ 2014, AJRCCM 2014, J Natl Cancer Inst 2014)
– First evidence of respiratory consequences of occupational exposure to metal NP in welders ( Rep. 2018, Nanotoxicology2016, Particle & Fibre Toxicol 2014)
– Long-term effects of maternal exposure to environmental contaminants (cigarette smoke, metal nanoparticles) during gestation; susceptibility factors to develop lung diseases in adulthood (Environment Health Perspect2017, Nanotoxicology 2017)?
– NP physico-chemical characteristics such as diameter, length, surface properties or chemical nature are critical determinants of their effects on lung inflammation, oxidative stress and autophagy, as well as their intracellular modification (Autophagy 2018, Particle & Fibre Toxicol2016, 2013, 2011, 2010, AJRCMB 2013)
Our work is supported by grants from EU (COST actions, H2020 REMEDIA), ANR, Programme d'investissement d'avenir (LabEx SERENADE – https://serenade.cerege.fr, EquipEx NanoID – http://nano-id.fr/), ANSES, Chancellerie des Universités, Vaincre la Mucoviscidose, Centre de compétence en Nanosciences d'île de France (C'Nano), Société de pneumologie de langue française (SPLF), Île de France Region, …
Selected publications
The team
Composition
Address
IMRB – Inserm U955
GEIC2O: Genetic and Environmental interactions in COPD, Cystic Fibrosis and Other (rare) respiratory diseases
Faculty of Medicine at Créteil – 5th floor
8, rue du Général Sarrail
94010 Créteil
France
Administrative assistant – Contact
Tél. : +33-1 49 81 36 56
Access map