Molecular and Genetic Bases of CFTR Anomalies and Surfactant Metabolism
Our team develops research projects focused on mechanisms controlling phenotypic variability of cystic fibrosis and the molecular basis of diseases surfactant. Our research is translational, at the interface between basic and applied research.
Our goal is to identify the responsible genes and / or modulating the phenotypic expression of these diseases, and understand, by functional studies, the pathophysiological consequences of molecular anomalies detected in patients, at the cellular level or at the scale of a whole organism by studying animal models.
Our main results of the 2008-2014 period were
– Identification of splicing defects CFTR as modifier phenotype of cystic fibrosis by in vitro and ex vivo analysis of transcripts,
– Characterization of proteins capable of modulating partners addressing CFTR to the membrane,
– Identification of active anti-inflammatory targets in cystic fibrosis,
– Study of SFTPC mutational spectrum, ABCA3 and NKX2-1 in patients with diffuse lung disease.
We pursue three main objectives:
(1) Improving the understanding of the molecular and genetic basis of cystic fibrosis, nasal polyposis and diseases associated with metabolic dysfunction of the surfactant. For this we will use the expertise gained by the study of CFTR especially at the mRNA level to apply to mRNA SFTPC.
(2) Further study of the CFTR protein partners involved in inflammation and improve knowledge of the cellular bases of surfactant in pathologies characterized isoforms SP-C and their partners involved in the pathway of autophagy.
(3) Define the mechanisms involved in the exacerbated inflammatory response observed in both CF patients and in hereditary diseases linked to abnormalities of surfactant. Indeed, the knowledge of these mechanisms will allow to propose new types of anti-inflammatory treatments.
Patents:
-Tarze A, Fanen P. "Methods and pharmaceutical compositions for treatment of cystic fibrosis." European Patent EP12305999, 13/08/2012 in the name of INSERM.
-Prulière-Escabasse V. "Diagnosis of cystic fibrosis." EB12140, 13/11/2012 in the name of INSERM.
Selected publications
The team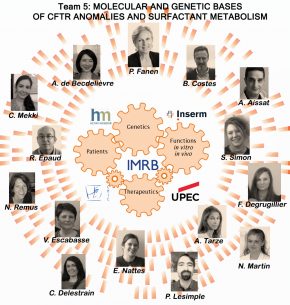 Composition
Address
IMRB – Inserm U955
Molecular and Genetic Bases of CFTR Anomalies and Surfactant Metabolism (Team 5)
Building R – Entresol 1
Hôpital Henri Mondor
51, avenue du Maréchal De Lattre de Tassigny
94010 Créteil
France
Administrative assistant – Contact
Tel. : 01 49 81 36 56
Access map
Department news