Immunoregulation and Biotherapy (I-BIOT)
Topic
Our team works on the modulation of the immune response applied to allografts (including gestation) and cancer. Our conceptual contributions rely on original discoveries in the field of checkpoints of the immune response (IL4I1, TNFR2, TFH interaction – B cells). We also take a fresh look at the interactions between immune response and tumor microenvironment by studying the interdependencies between tumor vascular normalization and quality of the immune response with or without therapeutic intervention.
We have several experimental models in the field of grafts (skin, HSC) in immunocompetent or immunodeficient mice. We have strong expertise in surgery, anatomopathology, immunohistochemistry, flow cytometry, 3D imaging (in collaboration with the Vision Institute), ultrasound of small animals and on tumor analysis (human or mouse) in close collaboration with locally-pathology and oncology departments (digital pathology, patient monitoring).
We are also developing tumor organoids from cell lines or directly from patient biopsies, in order to limit animal testing while expanding our field of investigation.
Our interactions are close with nephrology, clinical hematology, medical oncology, radiotherapy and obstetrics gynecology departments and we host a large part of their translational research activities.
We lead the clinical investigation center in biotherapy (J Cohen/P Grimbert), which we use as a platform for the development of early phase clinical trials based on our research. We also coordinate the "Fédération hospital-universitaire" FHU "TRUE, Innovative therapy for immune disorders" (PI Philippe Grimbert) and the "Focis center of excellence" in transplantation and cancer (PI José Cohen).
We coordinate a mass spectrometry platform set up and managed by José Courty, CNRS research director. Damien Habert, UPEC assistant engineer, is in charge of its operation/development and we have welcomed Sandrine Bourgoin, MCF at the UGA and expert in this technology for the past two years within the framework of a collaboration agreement with the UPEC. This platform is located on the central campus and is open to all IMRB teams. contact: jose.courty@u-pec.fr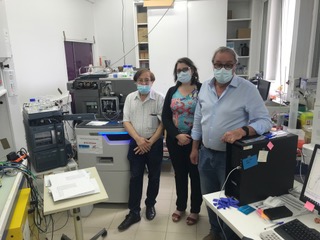 Our team also hosts Biopredic International, (Ismael Ben Mosbah, Manager and Fatiha Mahtout, Laboratory technician). Biopredic's expertise relates to the isolation, production and distribution of human and animal biologics, including tissues, primary cells, cell lines and reagents.
Expected benefits and Valuation
Our goal is to develop new therapeutic tools based on an in-depth knowledge in the fields of transplantation and cancer, two target fields of pathologies of dysfunctions of the immune response. Our recent work has led to several invention patents, some of which are licensed. We have also many interactions with private companies through the development of clinical trials or new biotherapy tool development.
Selected publications
The team

Composition
IMRB – Inserm U955
Immunorégulation et Biothérapie (I-BIOT) – Equipe José Cohen
Bâtiment R – Rez-de-chaussée
Hôpital Henri Mondor
51, avenue du Maréchal De Lattre de Tassigny
94010 Créteil
Contact
Tél. : 01 49 81 43 91