Interventional neuropsychology
The NeuroPsychologie Interventionnelle (NPI) team, INSERM U955, is a mixed research unit (INSERM, UPEC, ENS). The team is led by Prof. Anne-Catherine Bachoud.
The NPI team is present on two sites :
– the Mondor Institute of Biomedical Research (Faculty of Medicine of the UPEC in Créteil) dedicated to clinical research
– the Department of Cognitive Studies of the Ecole Normale Supérieure in Paris, focused on research in neuroscience and cognitive sciences.
Research axes :
The NPI's approach is threefold:
– Basic research in adult cognition, particularly language…
– Development of digitized diagnostic and monitoring tools for small cohorts of people
– Application to innovative therapies and predictive models of decline and recovery
The originality of the team lies in the convergence between fundamental research in human cognition and communication, and translational research focused on the evaluation of innovative therapies such as cell transplantation and gene therapy in neurodegenerative diseases (Huntington's and Parkinson's disease) and in vascular pathologies.
The clinical research projects we have developed are based on the original concept of interventional neuropsychology, which means that we study cognitive functions not only by their decline but also by their restoration following therapeutic intervention.
In order to improve the treatment and care of patients suffering from degenerative or vascular diseases, we capitalize on our expertise in cognition, particularly language and social cognition, to develop new digital tools for diagnosis, prognosis and patient follow-up. The long-term objective is to develop a dematerialized cognitive monitoring system that allows patients to be monitored even at home.
Key words :
Language; Psycholinguistics; Linguistics; Cognition; Neurodegenerative disease; Huntington's; Parkinson's; Intracerebral transplants; Striatum; fMRI; EEG; Social cognition; Stroke; Psycholinguistics
External collaborations :
The NPI laboratory is a member of the NeurATRIS health and biology research infrastructure designed to develop innovative tools for the development of future treatments. It also participates in the FHU SENEC (2020) in order to adapt new tools to cognitive impairment in aging. The NPI's activity is supported by the National Reference Centre for Huntington's disease, the Parkinson's expert centre and a vascular recourse unit providing access to patient cohorts (AP-HP; Henri Mondor Hospital; Créteil).
---
Selected publications
Significant publications (2009-2015)
The team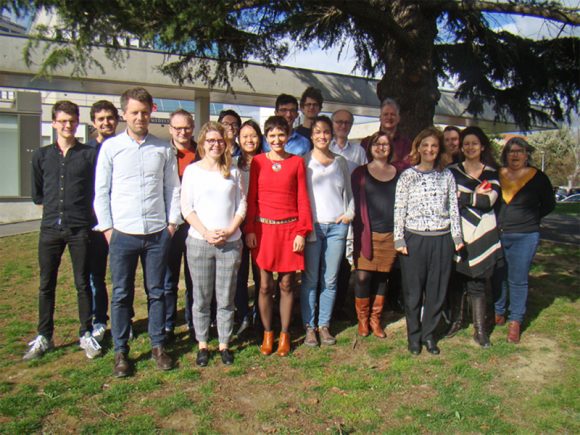 Composition
Address
Interventional neuropsychology (Team 1)
IMRB – Inserm U955
Creteil's health faculty – 2nd floor
8, rue du général Sarrail
94011 Créteil
France
Administrative assistants – Contacts
Tél. : 01 49 81 37 71
Tél. : 01 49 81 37 93
Access map
Significant publications (2009-2015)