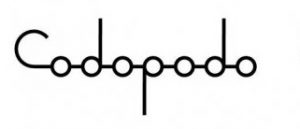 The IMRB PhD and Postdoctoral Committee (Comité des Doctorants et des Post Doctorants : Codopodo) is an association that was created in 2008. It is an interlocutor between the PhD students and the postdoctoral fellows, the IMRB and the doctoral school. It promotes relationships and exchanges between PhD students and postdoctoral fellows from all the research teams of the institute. It allows to help each other, support each other, share, exchange, advise.
What?
-By General meetings
-By Scientific activities
-By Social activities.
For this IMRB generously made available, local on the 2nd floor of the Faculty of Medicine, and an annual budget.
Grants
In order to encourage young researchers to attend conferences, Codopodo, with the support of the IMRB, has set up since 2017, scholarships to help with registration fees, accommodation and transport.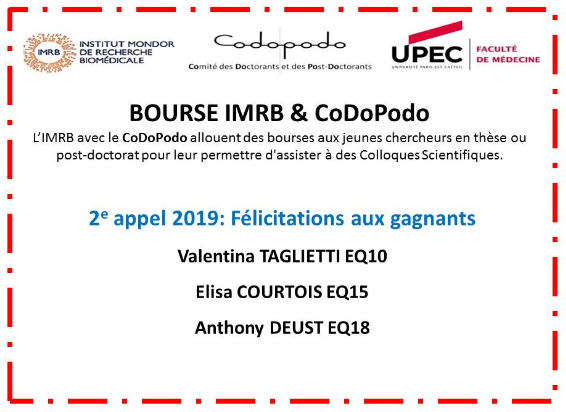 Journal Club
The Codopodo is responsible for the organization of the Journal Club: one Friday lunchtime per month, a doctoral or post-doctoral student makes a short presentation, open to all for a friendly scientific exchange.
This year again the club newspaper of the centre will return once a month. It consists in presenting in less than 15-20 minutes a major article in its field of expertise.
In addition to presenting articles, the interest of this meeting is to facilitate meetings with researchers working on different themes. We probably all have screening meetings in our respective teams, however the strength of this journal club was to exchange different points of view and techniques which for the moment are not necessarily present in our teams.
Moreover, it is not always easy for newcomers (researchers or students) to identify the different teams at the centre and I hope that this meeting could be one of the remedies.
It is in this context that I am sending you this email in order to know the people interested to present (cf dates without speakers) but also to transmit this information to your teams.
NB An agreement with the doctoral school is under discussion to validate these sessions in training hours.
Contact Journal Club : Allan Thiolat
Codopodo prize
For the 2019 edition of the Doctoral School Science Day, and for the following ones, Codopodo has decided to award a prize for the best poster.
Congratulations to Danushki Herath, PhD student of the Lanone team, for her Poster Award in this last edition.
---
Day of the Doctoral School of Health Sciences and Life Sciences in Créteil and the IMRB

Created in 2005 by the SVS Doctoral School and the IFR10-IM3, and since 2009 by the IMRB, the Créteil Life Sciences and Health Day brings together every year, under a theme chosen, a large number of our researchers, university hospitals, doctoral students and post-doctoral fellows, for a conference or a series of scientific interventions at a sustained pace from invited external researchers or from our Institute.
It is also the opportunity to attend the presentations of our doctoral students either during the Best Oral Communication Award or in the form of the Best Poster, category which is also rewarded.
Winners of the Best Oral Communication Award
2009: Mathieu Desmard, team 4; Inès Barthelemy, ENVA; Vincent Audard, team 21
2010: Hanneke van Zoggel CRRET and Aude Nicolas, team 15
2011: Adrien Acquistapace, team 8
2012: Stéphanie Paradis, team 3
2013: Jean-Maria Gagliolo, team 4
2014: Yuli Watanabe, team 4
2015: Muy Cheng-Peich, team 1
2017: Melissande Cossutta, CRRET
2018: Cindy Orvain, team 16
2019 : Elisa Courtois, team 15
Best Poster Winners
2009: Fanette Lasoudris, team 9, and Omar Bouhidel, team 8
2010: Grégory Franck, EAC 7054, and Abdel Aissat, team 11
2011: Amal Houssaini, team 8 and Christophe Rodriguez, team 18
2012: Adrien Guillot, team 17, and Djamal Ghoumid, team 11
2013: Claire Hotz, team 16, and José Oliveira, team 15
2014: Julie Léotot, EA3952, and Mohamed Rabah-Imache, team 18
2015: Charly Blanc, team 7, and Aude Aubatin, team 9
2017: Marielle Bréau, team 8, and Léo Machado, team 10
2018 : Auriane Maiza, CRRET, and Zaineb Mezdari, team 8
2019 : Emma Bergsten, EC2M3, and Fabio Raineri, CRRET
---
Links
Ecole Doctorale Sciences de la Vie et de la Santé-Université Paris Est : Created in 2000, the Doctoral School of Life and Health Sciences is one of the doctoral schools of the Department of Doctoral Studies of the University of Paris-Est .
Université Paris Est : Since March 2007, the research and higher education cluster "Université Paris-Est" has been structuring a cutting-edge generalist university, meeting the requirements of global visibility, a strong link between research and training and anchoring in its territory…
BioDocs : The BioDocs association was created in 1996 in Paris. It was born from the will of biology students (DEA, doctorate and post-doctorate) to face the difficulties encountered before, during and after their thesis .
Redoc Paris-Est : Created at the beginning of April 2009, Redoc Paris-Est – Réseau Doctoral d'Université Paris-Est is a multidisciplinary and cross-disciplinary association of doctoral students and PhDs….
Réseau BIOTechno : Biotechnology has undergone a major boom in a decade and seems to be positioning itself as one of the key technologies of the 21st century. To date, France has …
CampusFrance : Directory of university training courses for young researchers and foreign students in French and English…
Association Bernard Grégory : Association whose mission is to promote training through research in the socio-economic world…
Contrat doctoral : In order to encourage research and research training of higher education graduates at the level of …
Le club étudiant : Jobs, housing, insurance, good plans
European Commision Research : Information on European research
Jeunesse et action : This site is dedicated to the Youth Initiatives Action of the Youth in Action Programme. It is mainly aimed at young people
Euraxess : The University of Paris-Est hosts a EURAXESS service centre dedicated to doctoral students and researchers in international mobility. You can benefit from support before your arrival or during your scientific stay in France….