Flow Cytometry
Introduction
The Flow Cytometry facility of IMRB is located at the 1st floor of building R in the Henri Mondor Hospital (how to get to the facility).
It is equipped with one cell sorter (BD Influx Sorp) and two analysers (CyAn ADP LX7 et BD Fortessa X20) to analyze and quantify fluorescence of cells in suspension and to purify defined cells among a population.
Flow cytometry is used for a wide variety of purposes and at IMRB, it is mainly used for cell biology and immune studies.
The Flow Cytometry facility has established tight contacts with the Immunomonitoring Core facility, recently created at IMRB.
Since May 2011, the facility has been awarded an ISO 9001 certification.
Key words
flow cytometry
cell sorting
Competence and Expertise
Scientific and technical fields: cell biology, immunology
Competence: Flow cytometry-based cell analyses and sortings
Available Material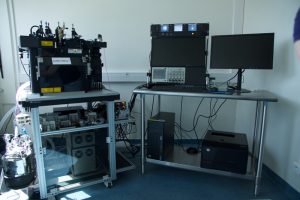 Cell sorter : Influx (BD Biosciences)
4 lasers (488, 640, 405 et 561nm)
2 morphological parameters (size and density),
18 fluorescence parameters :
Laser at 488nm : 520/15, 530/40, 670/30 et 710/50.
Laser at 640nm : 670/30, 720/40 et 750LP.
Laser at 405nm : 460/50, 520/35, 610/20, 660/20, 710/50 et 750LP.
Laser at 561nm : 585/29, 610/20, 670/30, 710/50 et 750LP.
Detection of microparticles (<0,2µm).
70 000 events per second.
Up to 6 channels for sorting, 4 nozzle sizes (70, 86, 100 et 140µm).
Monitoring of the temperature  (5°C-95°C)
Collect of purified cells in microtubes, 5 ml, 15 mL or 50 mL tubes.
Possibility of cell cloning in micro-plates (6/24/48/96/384 wells) or on microscopic slides.
Analyser: LSRFortessa X20 (BD Biosciences)
3 lasers (405, 488 et 640nm)
2 morphological parameters,
14 fluorescence parameters,
Laser at 488nm : 530/30, 575/26, 610/20, 695/40 et 780/60.
Laser at 640nm : 670/14, 730/45 et 780/60.
Laser at 405nm : 450/50, 525/50, 610/20, 670/30, 710/50 et 780/60.
20 000 events per second.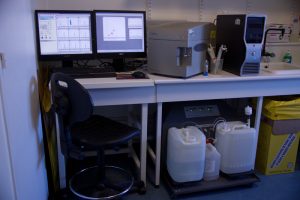 Analyser: Cyan, ADP LX7 (Beckman Coulter)
2 lasers (488nm et 633nm)
2 morphological parameters,
7 fluorescence parameters
Laser at 488nm : 530/40, 575/25, 613/20, 680/30, 750LP.
Laser at 633nm : 665/20, 750LP.
70 000 events per second.
Low-Jo analysis station (for Mac and PC)
Proposed services
Cell sortings
Flow cytometry analyses
Training for acquisition, analysis and interpretation of data.
Provide access of the analyzers after training.
Analysis of data using the Flow-Jo software.
Advice to users.
Conditions of Use
The facility is opened to all members of IMRB as well as to academic and non-academic teams, provided they obtained agreement from the staff. People and teams willing to use the facility equipment must first meet and discuss with the facility staff in order to establish provisional planning.
Opening hours
From Monday till Friday from 8h30 am to 5h00 pm. Reservation can be made by email at the following address: cytometrie.imrb@inserm.fr. Outside of the opening hours, getting access to the analyzers only requires agreement of the staff.
Contact
Adeline Henry or Aurélie Guguin
IMRB, INSERM U955
Plateforme de Cytométrie en Flux
Hôpital Henri Mondor, Bâtiment Recherche
1er étage, porte AA-064 et AA-061
51, ave du Maréchal de Lattre de Tassigny 94010 Créteil
Tél: 01 49 81 36 03
Mail : cytometrie.imrb@inserm.fr
Examples of services provided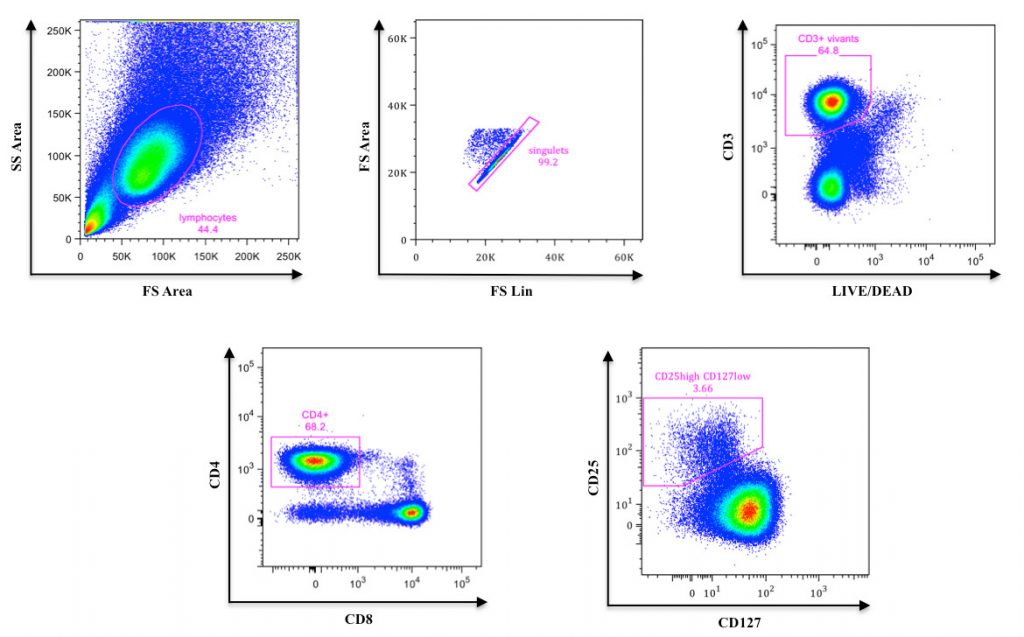 Analysis of human Treg lymphocytes from blood samples
---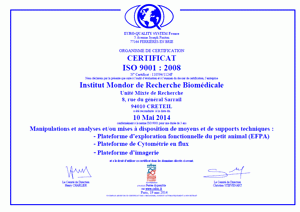 Since May 9, 2011, the flow cytometry facility is certified  ISO 9001, facilitating its access to industrial partners. Certification has been renewed on April 2014.
ISO 9001 certification defines a set of requirements concerning the implementation of a quality management system, regardless of size and industrial activity.