Vincent Audard, team 21, receives a research grant at the last Kidney Foundation Gala!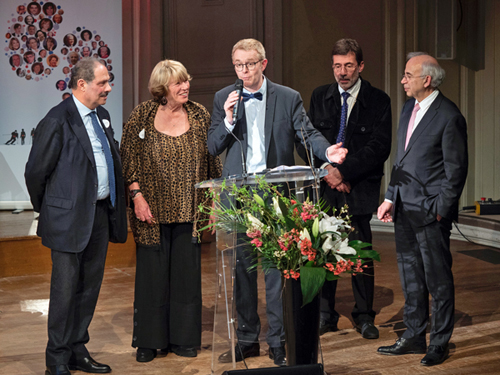 Professor Vincent Audard (Nephrology and Transplantation Department, IMRB Team 21) as coordinator of the Rare Disease Reference Centre (CRMR) "Idiopathic Nephrotic Syndrome" was presented on Tuesday 12 March 2019 during the Kidney Foundation gala (http://www.fondation-du-rein.org/) a research grant to set up within the 5 CRMR sites (Henri Mondor coordinator site, Robert Débré, Necker, Tenon and Nice constituent sites) a prospective collection of blood samples, urine samples and kidney biopsies sampled and stored in accordance with standard operating procedures, backed by a harmonised clinical and biological database.
This collection must allow:
(i) the identification and validation of diagnostic and prognostic biomarkers of INS,
(ii) the development of accurate and reproducible models to identify and validate the key factors involved in the pathogenesis of INS.
This project was also supported by the association of patients with Idiopathic Nephrotic Syndrome (http://amsn.ambitionrecherche.fr/)
Incoming seminars
Spatial heterogeneity and dynamic of the mononuclear phagocyte system :
«Alexandre BOISSONNAS - 12h - Amphi 5, 4ème étage de la Faculté de Santé de Créteil»
Interactions between thermal regulation and neuroimmunemodulation :
«Luiz BRANCO - 12h – Amphi 5, 4ème étage de la Faculté de Santé de Créteil»
When Chemistry Meets Health – 3rd IMRB/ICMPE Seminar: Anticancer Therapy: Use of a Multivalent Nucleolin Antagonist in Free or Polyplexed Form :
«3rd IMRB/ICMPE Seminar - Ilaria CASCONE et Jacques PENELLE - De 11h30 à 13h – Webconférence Zoom»
---
All incoming seminars
Experts centers