Publication in Cell of a study led by Matthieu Mahevas of the Pirenne team, in collaboration with several IMRB teams, on the maturation and persistence of the anti-SARS-CoV-2 and COVID-19 immune response.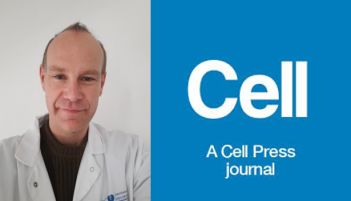 B memory cells play a fundamental role in the host's defenses against viruses, but so far their role has been relatively undefined in the context of CoV-2 SARS.
Matthieu Mahévas and several members of the Pirenne team, associated with several teams at the Institute (Bastuji-Garin, Cohen, Lévy and Pawlotsky teams), the Necker Institute for Sick Children (Reynaud, Weill team) and the Pasteur Institute (Rey team), have demonstrated the accumulation of spicule specific memory cells (Spike) of SARS-Cov2 up to 6 months after infection.
The authors were also able to show that the antibodies produced by these memory cells neutralized the virus in vitro. The maturation of the B immune memory against the virus over time is a very encouraging result for vaccination and the issue of protection against variants, as memory cells can adapt to pathogens and re-initiate an effective and intense immune response upon re-exposure.
This study can be found in the prestigious journal Cell of February 2, 2021 in open access.
Incoming seminars
When Chemistry Meets Health – 3rd IMRB/ICMPE Seminar: Anticancer Therapy: Use of a Multivalent Nucleolin Antagonist in Free or Polyplexed Form :
«3rd IMRB/ICMPE Seminar - Ilaria CASCONE et Jacques PENELLE - De 11h30 à 13h – Webconférence Zoom»
The Adhesion GPCR Gpr116 Maintains the MuSC Pool via Nuclear Activities of beta-arrestin1 :
«Colin CRIST - 12h – Amphi 5 (sous-réserve), 4ème étage de la Faculté de Santé de Créteil»
Dysfonctions neurocognitives dans le trouble bipolaire et innovations thérapeutiques personnalisées :
«Pauline FAVRE - 13h - Webconférence Zoom»
---
All incoming seminars
Experts centers