New on the Imaging platform!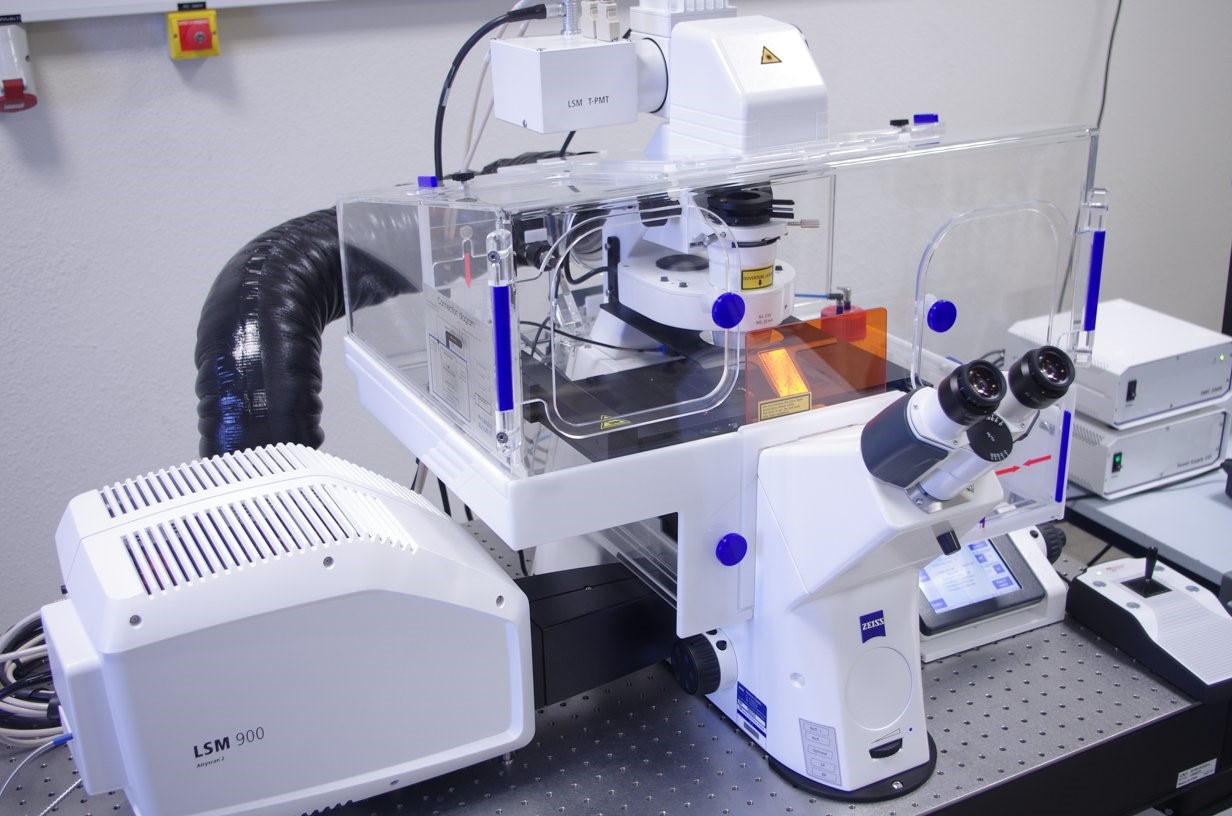 The imaging facility is pleased to announce the arrivals of its new Zeiss LSM 900 confocal microscope with Airyscan2 to replace the LSM510. The LSM 900 will be operational as of June 22nd.
The Zeiss confocal LSM 900 is part of the latest Zeiss confocal family. The wide range of objectives (long working distance or large numerical aperture) from 20x to 63x coupled with the motorized stage, the new sensors, the thermostatic control and CO2 incubation systems make this instrument a very versatile tool. The 405, 488, 561 and 640nm LASER diodes cover a wide spectrum of fluorescent molecules used in biology.
With the lowest magnification (20x objective), it is possible to perform a 3D reconstruction of small tissues, or to follow the dynamics of living cells. These techniques will take advantage of the higher signal-to-noise ratio (SNR) offered by the new GaAsP sensors, and the motorized stage for multi-position tracking or for mosaic imaging over a larger area. For example, it is possible to identify labelled cells in tissues and analyze their distribution, or to track cell migration in various environments. The multiplex mode of the Airyscan 2 sensor allows faster scanning while maintaining confocal resolution. This multiplex mode reduces sample acquisition time.
At a higher magnification (from the x40 objective), it is possible to take advantage of the Airyscan 2 sensor to track particles in living cells or to perform super-resolution imaging and very precise analysis in a tissue or cell sample. Imaging fluorescent vesicles in the cell with the multiplex mode of the Airyscan 2 sensor allows faster scanning and better spatio-temporal resolution. The super-resolution capability of the Airyscan 2 allows the study of fluorescent events with lower intensities than before and at a better resolution. This technology allows to better understand the spatial distribution of labeled fluorescent particles, to study with high precision the sub-cellular localization of different proteins and to study their colocalizations at a sub-optical resolution.
If you wish to use it or simply have more details on the technical possibilities, do not hesitate to contact Xavier Decrouy (xavier.decrouy@inserm.fr).
Incoming seminars
Tissue damage induces a conserved stress response that initiates quiescent muscle stem cell activation :
«Philippos MOURIKIS - 13h – Videoconference Zoom»
When environmental sciences meet health sciences: 4th OSU-IMRB seminar (videoconference) :
«-»
Technical seminar on ISOPLEXIS technology :
«13h – Videoconference Teams or Zoom»
---
All incoming seminars
Experts centers