Nadjet Gacem ex-PhD student (ED SVS 402) in the former Sylvie Dufour's team, who performed her PhD under the supervision of Nadege Bondurand (DR2, INSERM), published a paper in Nature Communications revealing the role of A-to-I RNA editing in neural crest development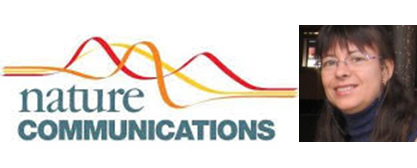 Adenosine-to-inosine (A-to-I) RNA editing, mediated by enzymes of the ADAR family, is a well-known contributor of transcriptomic and, to a lesser extent, proteomic diversity.
In this paper, Nadjet Gacem extends the landscape of ADAR1 function to the field of neural crest development.
The team indeed showed that neural crest specific conditional deletion of Adar1 in mice leads to alterations of both melanocytes and Schwann cells. Upregulation of interferon stimulated genes precedes these defects, which are associated with the triggering of a signature resembling response to injury in peripheral nerves.
To read more : (Nat Commun. 2020 Jan 10;11(1):198. doi: 10.1038/s41467-019-14090-5).
Incoming seminars
When Chemistry Meets Health – 3rd IMRB/ICMPE Seminar: Anticancer Therapy: Use of a Multivalent Nucleolin Antagonist in Free or Polyplexed Form :
«3rd IMRB/ICMPE Seminar - Ilaria CASCONE et Jacques PENELLE - De 11h30 à 13h – Webconférence Zoom»
The Adhesion GPCR Gpr116 Maintains the MuSC Pool via Nuclear Activities of beta-arrestin1 :
«Colin CRIST - 12h – Amphi 5 (sous-réserve), 4ème étage de la Faculté de Santé de Créteil»
Dysfonctions neurocognitives dans le trouble bipolaire et innovations thérapeutiques personnalisées :
«Pauline FAVRE - 13h - Webconférence Zoom»
---
All incoming seminars
Experts centers