Launch of a call for applications for EUR LIVE! doctoral scholarships!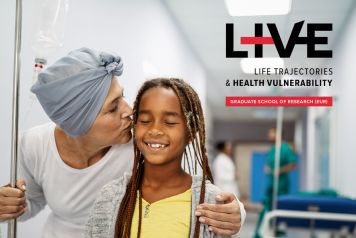 UPEC's EUR (University Research School) LIVE (Life Trajectories & Health Vulnerability) is calling for applications for doctoral scholarships in the following Doctoral Schools, ED Life and Health Sciences (SVS), ED Organisations, Markets, Institutions (OMI), ED Sciences, Engineering and Environment (SIE) and ED Public Health (SP).
Together, UPEC, Inserm and CNRS will study health vulnerability with an interdisciplinary approach in the fields of teaching and research in health and biology, public health and epidemiology, economics, chemistry and environment.
Important dates:
Submissions open:  May 04th 2020
Submissions close: June 19th 2020
Decisions on acceptance: July 1th 2020
Start of Ph.D.:  October 1th 2020
Contacts:
EUR-LIVE Coordinator: Prof. Geneviève DERUMEAUX
EUR-Live administrative contact: live@u-pec.fr
Health & Biology:
Prof. Sophie HÜE
Prof. Pascale FANEN
Public Health:
Prof. Florence CANOUI-POITRINE
Health Economics:
Prof. Thomas BARNAY
Chemistry & Environment:
Prof. Isabelle COLL
To find out more:
https://www.u-pec.fr/fr/universite/actualites/eur-live-calls-for-phd-are-launched
Attached documents: Flyer and Call for doctoral contract.
Incoming seminars
POSTPONED: Upcoming title :
«POSTPONED : Ilaria Cascone - 12h – 12h – Amphi 5, 4ème étage de la Faculté de Santé de Créteil»
POSTPONED : Pending title :
«POSTPONED : Sophie Vaulont - 12h – Amphi 5, 4ème étage de la Faculté de Médecine de Créteil»
REPORTE A UNE DATE ULTERIEURE : TAK1 signalling in MSC regulates Th2 inflammation :
«REPORTE A UNE DATE ULTERIEURE : Marine Theret - 12h – Amphi 4, Rdc de la Faculté de Santé de Créteil»
---
All incoming seminars
Experts centers