Josselin Houenou and Stéphane Jamain, as well as their colleagues in team 15, have demonstrated a genetic variant associated with both early-onset bipolar disorder and schizophrenia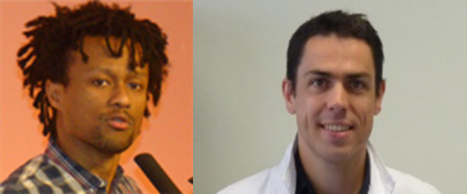 L'équipe 15 de Marion Leboyer et de Stéphane Jamain a mis en évidence un variant génétique associé à la fois aux troubles bipolaires à début précoce et à la schizophrénie. Les résultats sont publiés dans « The Journal of Neuroscience, 2 October 2017, 1040-17; DOI: https://doi.org/10.1523/JNEUROSCI.1040-17.2017 ».
SNAP25 (pour synaptosomal associated protein) est une protéine essentielle dans la neurotransmission. Or, « le polymorphisme dans le promoteur du gène codant pour SNAP25, rs 6039769, est associé aux formes précoces de troubles bipolaires », précise Stéphane Jamain, l'auteur principal de l'article, qui revient pour « le Quotidien » sur cette découverte. Les chercheurs ont aussi constaté que ce variant était associé avec une augmentation du risque de schizophrénie.
« Ce polymorphisme augmente le risque de façon assez faible en fait : avec 30 % d'augmentation par rapport à la population générale, on passe de 1 % à 1,30 %, mais on sait que le risque de développer une schizophrénie augmente avec l'accumulation d'un grand nombre de variations de ce type », précise le chercheur.
« Nous avons étudié ce polymorphisme in vitro et constaté que ce changement d'un nucléotide augmentait de 30 % l'expression du gène, expliquant l'augmentation d'expression précédemment observée post-mortem dans le cortex préfrontal des sujets porteur de cette variation. »
Suite de l'article dans Le Quotidien du Médecin du 5 octobre 2017
Incoming seminars
EMDR therapy for post-traumatic stress disorder :
«Ad DE JONGH - 13h30 – Visioconférence Zoom»
From car to coronary: the cardiovascular effects of air pollution :
«Mark MILLER - 12h - Videoconference Zoom»
Technical seminar ISOPLEXIS : Accelerating the Next Generation of Immune Medicine with Cellular Proteomics with the IMRB :
«Mourad FERHAT - 13h – Videoconference Teams»
---
All incoming seminars
Experts centers