Greetings from the Director of the IMRB, Tuesday 21 January 2020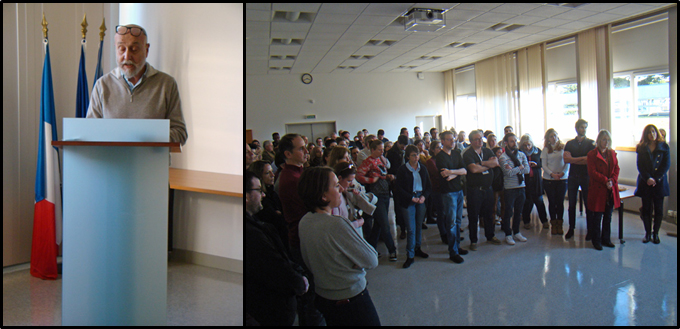 Many agents of the IMRB were present on this Tuesday, January 21, 2020 for the greetings of our director Jorge Boczkowski in the Alain Harf room of the Faculty of Health of Créteil.
Following the evaluation of our Centre by the HCERES from 13 to 15 March 2019, and whose results were very positive, Jorge Boczkowski wished to thank all the staff of our Institute for their participation and involvement in this event.
Among those present, the Dean and some members of the Faculty of Health of Créteil, as well as the Regional Delegation of Inserm Paris 6 which came in force!
You can find Jorge Boczkowski's entire speech as well as the photos taken during this event in the attached documents.
Documentation
Documentation
Incoming seminars
When Chemistry Meets Health – 3rd IMRB/ICMPE Seminar: Anticancer Therapy: Use of a Multivalent Nucleolin Antagonist in Free or Polyplexed Form :
«3rd IMRB/ICMPE Seminar - Ilaria CASCONE et Jacques PENELLE - De 11h30 à 13h – Webconférence Zoom»
The Adhesion GPCR Gpr116 Maintains the MuSC Pool via Nuclear Activities of beta-arrestin1 :
«Colin CRIST - 12h – Amphi 5 (sous-réserve), 4ème étage de la Faculté de Santé de Créteil»
Dysfonctions neurocognitives dans le trouble bipolaire et innovations thérapeutiques personnalisées :
«Pauline FAVRE - 13h - Webconférence Zoom»
---
All incoming seminars
Experts centers