Good news for the IMRB platforms!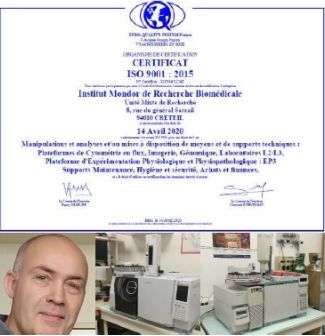 ISO 9001 certification defines a series of requirements concerning the implementation of a quality management system in an organization, whatever its size and sector of activity.
In 2011 the flow cytometry platform was the first platform to receive this certification as well as the processes supporting maintenance and health & safety, followed three years later by the imaging platform and the histology platform. Then in 2018 the genomics platforms, EP3 and Level 2 Laboratories were added. In mid-April 2020, the certification of these five platforms and these two supports has been renewed and the IMRB's Purchasing and Finance support has just been newly certified.
In addition, a new platform has just joined the six others within our Institute. This is the mass spectrometry platform. It is under the technical and scientific responsibility of Frank Giton, who has recognized expertise in the detection and dosage of steroid hormones. Frank Giton has also developed several applications related to the analysis of small molecules (endocrine disruptors, environmental pollutants, pesticides, drugs).
Finally, with the new mandate that is starting, the Genomics Platform is being reorganized. Carole Conejero, assisted by Stéphane Kerbrat, is now in charge of the team's operational responsibility. Bruno Costes continues to give us the benefit of his expertise as Scientific Referent but joins Sophie Lanone's team at 80% to develop projects related to genomics. To ensure the realization of your projects we can now count on Patricia Zadigue, who arrived very recently, Doua Slimane (CDD UPEC) and Ramiya Vidjeacoumarane (on a work-study contract).
Incoming seminars
Tissue damage induces a conserved stress response that initiates quiescent muscle stem cell activation :
«Philippos MOURIKIS - 13h – Videoconference Zoom»
When environmental sciences meet health sciences: 4th OSU-IMRB seminar (videoconference) :
«-»
Technical seminar on ISOPLEXIS technology :
«13h – Videoconference Teams or Zoom»
---
All incoming seminars
Experts centers