Erectile dysfunction following treatment for prostate cancer : IMRB at the cutting edge of progress!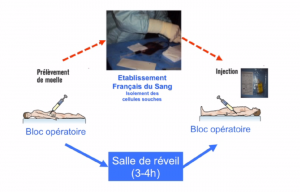 After receiving a transplant of stem cells in the penis, 12 patients with severe erectile dysfunction found significant improvements in the quality of sexual intercourse, erection, penile rigidity and quality of orgasm.
This clinical trial was led by Professor René yiou (IMRB-U955, Team 10) in the urology department of the University Hospital Henri Mondor, Assistance Publique-Hôpitaux de Paris (AP-HP) in Créteil.
Other teams (Teams 3, 7 and 12) of the Institute collaborated in this study whose results are published in European Urology.
Link to the press release of Inserm
Incoming seminars
EMDR therapy for post-traumatic stress disorder :
«Ad DE JONGH - 13h30 – Visioconférence Zoom»
From car to coronary: the cardiovascular effects of air pollution :
«Mark MILLER - 12h - Videoconference Zoom»
Technical seminar ISOPLEXIS : Accelerating the Next Generation of Immune Medicine with Cellular Proteomics with the IMRB :
«Mourad FERHAT - 13h – Videoconference Teams»
---
All incoming seminars
Experts centers