CEpiA team publishes study in the Oct. 28 Journal of Clinical Oncology on a two-step frailty assessment strategy for older patients with solid cancers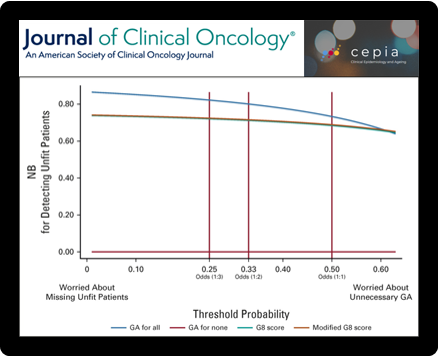 In elderly cancer patients, it is recommended that frailty screening be performed prior to cancer treatment in order to refer patients for further geriatric assessment. The clinical utility of frailty screening tools has not been evaluated. Using data from 1678 elderly patients (median age 81 years) with solid cancers included in the ELCAPA cohort, the authors assessed the clinical utility of frailty screening tools by decision curve analysis to identify frail patients and avoid unnecessary geriatric assessments in robust patients. Despite the good diagnostic accuracy of the screening tools, the authors observed no benefit of the 2-step frailty screening compared with a geriatric assessment approach for all, regardless of tumor type, clinical stage, or age group. Assessment of clinical utility is a methodological step to consider in the development of tools that impact medical decision making and the care pathway.
This work was carried out within the framework of the thesis of Adolfo González Serrano, PhD student in Public Health at the EUR LIVE of the Faculty of Health of UPEC (Ecole Doctorale Santé Publique UPEC/UPSaclay), directed by Florence Canouï-Poitrine, in collaboration with members of the CEpiA U955 Inserm/UPEC team, ERUDITE (UPEC), AP-HP (Henri-Mondor, Cochin and HEGP hospitals), Institut Bergonié and Institut Curie.
Access to the article's abstract
A Two-Step Frailty Assessment Strategy in Older Patients With Solid Tumors: A Decision Curve Analysis
Adolfo Gonzalez Serrano, MD, MSc; Marie Laurent, MD, PhD; Thomas Barnay, PhD ; Claudia Martınez-Tapia, PhD; Etienne Audureau, MD, PhD; Pascaline Boudou-Rouquette, MD; Thomas Aparicio, MD, PhD; Florence Rollot-Trad, MD; Pierre Soubeyran, MD, PhD; Carine Bellera, PhD; Philippe Caillet, MD; Elena Paillaud, MD, PhD; and Florence Canouı-Poitrine, MD, PhD
Published online October 28, 2022.
Incoming seminars
Proteogenomic characterization of tumor-specific antigens in acute myeloid leukemia :
«Grégory EHX - 12:00 pm - Amphi 5, 4ème étage de la Faculté de santé»
Meeting FHU SENEC – UMGGR GHU Henri Mondor :
«Tuesday, February 7 from 10am to 7:30pm and Wednesday, February 8 from 9am to 3pm. - Videoconference»
How to innovate in neuroscience? :
«Alexis GENIN - 13h30 – Visioconférence Zoom»
---
All incoming seminars
Experts centers