Arrival of a startup in the new EnvA Chauveau building in interaction with Frédéric Relaix's BNMS team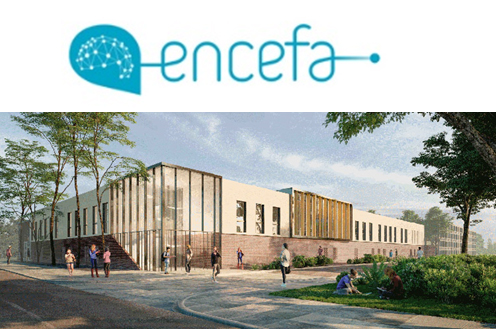 The École nationale vétérinaire d'Alfort is pleased to welcome within its new research platform, the Auguste Chauveau building, the start-up "Encefa" to develop a promising scientific partnership in terms of innovation and research on neurodegenerative and inflammatory diseases.
The start up "Encefa" integrated, in June, the premises of our platform dedicated to research in the brand new Auguste Chauveau building. Created in 2016, the company was previously incubated within the Institut du Cerveau – Hôpital de la Pitié Salpêtrière.
The company is behind a patent on an immunotherapy, an antibody, targeting the CD38 protein. When expressed, CD38 has various functions and activities, including adjusting the amount of NAD, a small molecule whose decline in blood levels has been associated with cell aging and disease. The antibody developed makes it possible to reinforce the production of NAD but also to activate the "cleansing" of the neurons and the immune system. It reduces the death of neurons by preventing the accumulation of toxic debris within them and by acting on the inflammatory cycle.
"Encefa" will work closely with Frédéric Relaix's neuromuscular system biology (BNMS) research team in order to carry out pre-clinical testing of this antibody, within the Mondor Institute for Biomedical Research and in the continuity of the development of our public-private partnerships.
Incoming seminars
Séminaire technique : Politique et objectifs qualité environnement de la société Dominique Dutscher :
«Karen REZAZGUI, Gonzague MAHIEU, Naim KOUAS - 12h – Visioconférence Teams»
Genetics and mechanisms of chemotherapy resistance in acute lymphoblastic leukemia :
«Adolfo FERRANDO - 4:00 p.m. - Videoconference Zoom»
When environmental sciences meet health sciences: 3rd OSU-IMRB seminar (videoconference) :
«From 12:00 to 1:30 pm – Videoconference»
---
All incoming seminars
Experts centers