A pioneering study in the field of liver cancer and artificial intelligence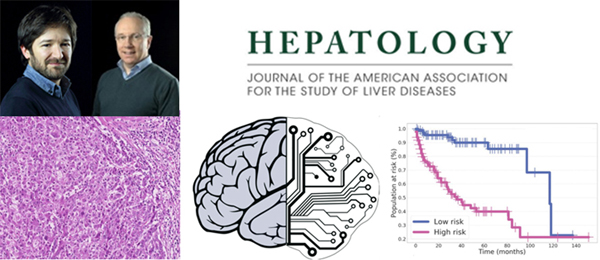 Predicting the prognosis of cancers is very important for adapting treatment regimens.
A study conducted under the direction of Dr. Julien Calderaro (Pawlotsky Team), in collaboration with the Owkin start up has just demonstrated that the application of neural networks (artificial intelligence) to histological numeric liver cancer slides made it possible to predict mortality more accurately than all conventional clinical, biological and anatomopathological characteristics.
This work thus opens up interesting perspectives to better detect the patients most at risk and to intensify anti-tumour treatments in this case. This study is published in the journal Hepatology, 28 february 2020.
Incoming seminars
When Chemistry Meets Health – 3rd IMRB/ICMPE Seminar: Anticancer Therapy: Use of a Multivalent Nucleolin Antagonist in Free or Polyplexed Form :
«3rd IMRB/ICMPE Seminar - Ilaria CASCONE et Jacques PENELLE - De 11h30 à 13h – Webconférence Zoom»
The Adhesion GPCR Gpr116 Maintains the MuSC Pool via Nuclear Activities of beta-arrestin1 :
«Colin CRIST - 12h – Amphi 5 (sous-réserve), 4ème étage de la Faculté de Santé de Créteil»
Dysfonctions neurocognitives dans le trouble bipolaire et innovations thérapeutiques personnalisées :
«Pauline FAVRE - 13h - Webconférence Zoom»
---
All incoming seminars
Experts centers