A look back at the IMRB's Apprentice Researchers experience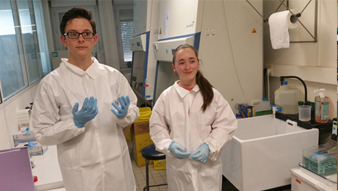 Since its creation in 2004, L'Arbre des Connaissances Association founded by researchers has promoted dialogue between scientists and society. The Apprentice Researchers are one of the actions carried out by this association which has enabled more than 2000 secondary school students to be welcomed in the laboratories (more info). This year, under the impetus of Carole Hénique (Researcher, team 21), and the support of Nelly Lebret (Secretary General of the IMRB), the IMRB has welcomed 7 students since mid-January.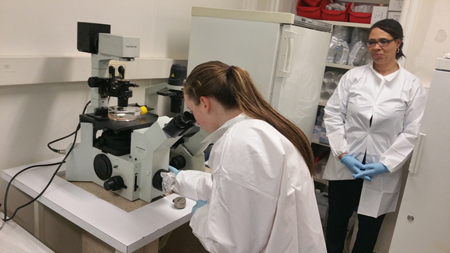 The students came one Wednesday afternoon a month to carry out a scientific project on a research topic in the laboratory.
During all these sessions, they were supervised by Mohamed Amiche (Researcher, team 7), Patricia Zadigue (Technician, team 7), Tassadit Saidj (Post-Doctoral, team 10), Cyrielle Hou (Doctoral, team 10), and Zaineb Mezdari (Doctoral, team 8).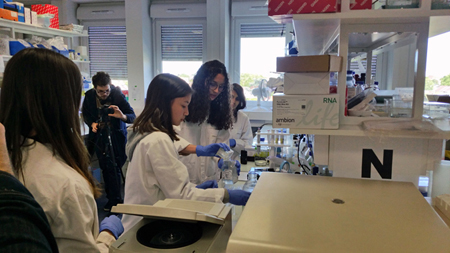 The students were delighted with this experience and at the end of May a congress with other UPEC laboratories will be organised by the association for a return on the first steps of these perhaps future talent seekers. You will soon find a report on this action carried out in our Research Centre on the Inserm regional website and relayed in a newsletter.
Photo credits: L'Arbre des Connaissances.
Incoming seminars
New targeting strategies to improve pancreatic cancer treatment by modulating the immune tumour microenvironnement :
«Ilaria Cascone - 13h - Webconférence Zoom»
Symposium international "Epi/genetic architecture of psychiatric disorders" :
«De 9h30 à 18h30 – Auditorium, Faculté des Sciences et Ingénierie, Campus Pierre & Marie Curie, Paris»
Presentation of the Tr@nsmettreRIF project :
«Richard SOUKTANI et Bruno COSTES»
---
All incoming seminars
Experts centers