Drug discovery and cell therapy in cardiovascular diseases
PROJECT RESEARCH
Dr. Motterlini's laboratory has a long-standing interest in the biological significance of heme oxygenase-1 (HO-1), a ubiquitous defensive protein that degrades heme to carbon monoxide (CO), biliverdin and bilirubin (see Figure 1).
Together with Dr. Roberta Foresti, their team has extensively contributed to understand how HO-1 and endogenous bilirubin and CO render vascular and cardiac tissues more resistant to oxidative stress and injury.
Within the frame of our research strategies, we have also worked extensively on the identification of small molecules that specifically target the HO-1/CO pathway for the implementation of new pharmacological approaches to treat cardiac disorders and inflammation.
Notably, this work led to the pioneering discovery and characterization of CO-releasing molecules (CO-RMs), compounds that deliver controlled amounts of CO to tissues (see Figure 2).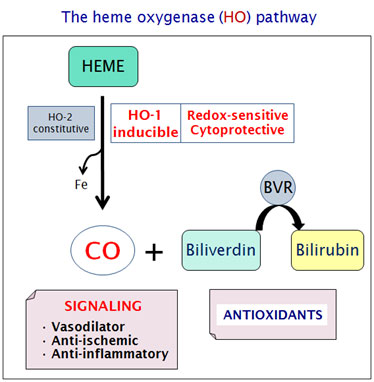 Several studies by our group, which have been corroborated by other laboratories, have confirmed that CO-RMs are pharmacologically active by exerting vasodilatory, anti-ischemic, anti-inflammatory and bactericidal effects in vitro and in animal models of disease.
As the intracellular target(s) of CO remains elusive, part of our research plan is now to investigate the mechanism of action of CO with particular emphasis on the effect of CO-RMs on redox signaling and mitochondrial bioenergetics and their anti-inflammatory action.
In parallel, we are also working on the design and synthesis of effective small molecules that induce HO-1 by targeting the transcription factor Nrf2 which controls HO-1 gene expression (see Figure 2). This is based on our original findings that curcumin and other natural compounds strongly induce HO-1 protein expression and activity via transcriptional regulation of Nrf2.
The recent synthesis of "HYCOs", novel hybrid molecules able to activate the Nrf2/HO-1 axis and simultaneously release CO, is an example of our drug discovery approach. As part of these projects, which are conducted in collaboration with a chemistry group (Dr. Michael Rivard), the team aims to investigate in depth the mechanism(s) of action by which HO-1 and CO exert its pharmacological effects by modulating mitochondrial function, metabolism and inflammation.
The team is also investigating approaches that combine the use of CO-RMs and HYCOs with stem cell technologies (see Figure 2).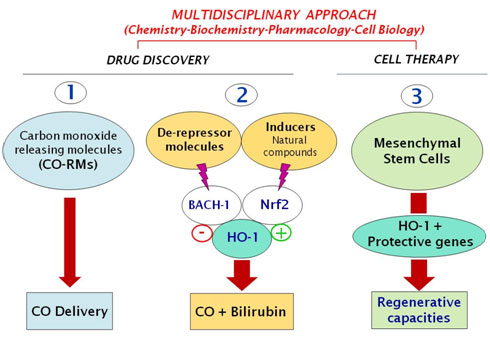 JOINING THE MOTTERLINI'S LAB
Dr. Motterlini's laboratory embraces a multidisciplinary approach comprising chemistry, biochemistry, pharmacology and cell biology. Several national and international collaborations and a continuous exchange of students and research fellows enable the team to progress and consolidate its research objectives.
Dynamic and enthusiastic candidates interested in joining the team are strongly encouraged to contact us also for preparation of joint grant applications and fellowships. Applications should include a cover letter stating scientific interests, a CV and names and addresses of at least two referees. Please contact: Dr. Roberto Motterlini (roberto.motterlini@inserm.fr) or Dr. Roberta Foresti (roberta.foresti@inserm.fr).
Selected publications
Documentation
The team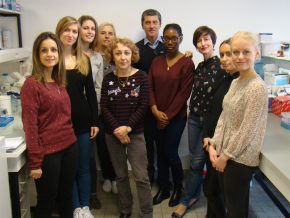 Composition
Address
IMRB – INSERM U955
Drug discovery and cell therapy of cardiovascular diseases (Team 12)
Faculty of Medicine at Créteil – 3rd floor
8, rue du Général Sarrail
94010 Créteil
France
Administrative assistant – Contact  :
Tél. : +33-1 49 81 35 30
Access map
Department news