Renal immunopathology and immunomodulation in Transplantation
Our team includes two research groups involved in different but complementary research fields.
Renal immunopathology (D. Sahali)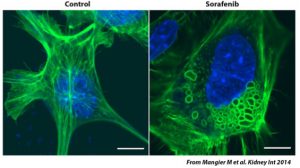 Idiopathic Nephrotic Syndrome (INS) defines a group of kidney diseases characterized by massive proteinuria and hypoalbuminemia. INS is the most frequent glomerular pathology in children and young adults. Although considered a rare disease, its prevalence is higher (16-20 per 100,000 people) because of its lifelong clinical course. Primary INS includes two main variants: minimal-change nephrotic syndrome (MCNS) and focal segmental glomerulosclerosis (FSGS). Current works are focused on (1) the pathophysiology of immune disorders and the molecular mechanisms of podocyte diseases in acquired INS and (2) the pathophysiology of glomerular diseases induced by receptor tyrosine kinase inhibitors (RTKI).
– By using different screening approaches including subtractive cDNA cloning and differential proteomics from patients with INS, we identified several genes of interest, which are under study through generation of mouse models.
– Research project based on the proteomic and lipidomic analysis of lymphocyte supernatants and kidney biopsies from patients and healthy controls, aiming at finding differential diagnostic biomarkers of INS recurrence and renal toxicity of anti-cancer therapy based on RTKI. Proteomic analysis is based on isobaric labeling of peptides, two-dimensional separation by an off-gel technique and identification by nano-liquid chromatography and Orbitrap tandem mass spectrometry. Lipidomic analysis is performed by ClinProTools-based evaluation of mass spectra obtained by matrix-assisted laser desorption ionization time-of-flight (MALDI-TOF/TOF). Both approaches will be used in a discovery screening phase consisting of the evaluation of kidney biopsies from patients treated by anti-VEGF (eg Avatatin) or RTKI (eg sorafenib) and healthy controls. In a second phase, a validation screening will be performed by targeting those proteins and lipids found as the main sources of variability among individuals, in larger cohorts of patients. The results of the present project may contribute not only to establish a non-invasive way to predict rénal toxicity of these drugs, but also to an improved follow up of patients and to the optimization of currently available therapies.
Expected impacts
Identification of the causative factor(s) for MCNS and FSGS will have a major impact on several clinical fields including nephrology and transplantation:
Diagnosis: Current diagnosis of these diseases is only yet based on histological findings on renal biopsy. It will be of crucial importance to individualize the INS subgroups with recurrence risk, which may be possible once the pathogenic factor(s) is (are) identified.
Monitoring: INS relapse are unpredictable in the absence of a reliable biomarker. Nearly 50% of FSGS patients develop terminal renal failure and are treated by periodic dialysis before transplantation. Identification of the causative factor and its use as FSGS biomarker, may help to monitor the patient's serum levels while maintained on dialysis and to decide whether these patients can be transplanted. A measurable biomarker would also help to monitor effects of several proposed treatment modalities.
Therapeutics: Identification of the causative factor would open new therapeutic perspectives leading to blocking or inhibiting its production, including neutralizing antibodies. We would aim to understand the mechanisms of podocyte dysfunction mediated by the circulating factor in order to look how to inhibit this effect. Several patents could be considered within a potential therapeutic setting as the project progresses.
Technology transfer
Development of ELISA diagnostic kits
Preventing the renal complications of anti-angiogenic drugs


---
Immunomodulation in Transplantation (J. Cohen)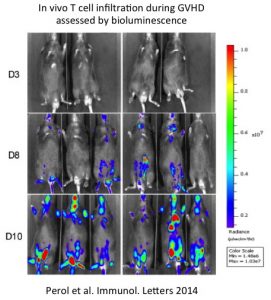 Our general objective is to improve our understanding of the immune system confronted to solid organ or cell transplantation. Our program focuses on three main axes:
Identification of the molecular and cellular mechanisms of the immune system leading to organ rejection or graft-versus-host disease or, alternatively to tolerance, through the analysis of different cohorts of grafted patients;
Development of strategies of immunomodulation notably relying on CD4+CD25+FOXP3+ natural regulatory T cells (Treg), a central actor in permitting immune tolerance or on the newly described Breg cell population.
Development of strategy of organ preservation in order to reduce ischemia/reperfusion (I/R) injury in link with the subsequent immune response.
We take advantage of a unique specificity of our hospital that performs all the type of transplantation, and of our environment that includes a center for clinical investigation in biotherapy devoted to the development of clinical trials in transplantation from our basic research.
This structure permits us to bring our different projects from bench to benside.
Main projects
Treg modulation of the immune response in allogeneic stem cell transplantation (José Cohen, Sébastien Maury)
Role of Breg in transplant tolerance (Philippe Grimbert)
Suppressive effect of low doses of IL-2 in organ and allogeneic stem cell transplantation (José Cohen, Philippe Grimbert, Sébastien Maury).
Tolerance induction mediated by apoptotic cells (Caroline Pilon, José Cohen, Philippe Grimbert)
Dynamic transcriptomic analysis in renal transplant recipients (Philippe Grimbert, Marie Matignon)
Strategies of reduction of I/R injury in kidney and liver transplantation (Philippe Compagnon, Daniel Azoulay).


---
The team
Composition
Address
IMRB – Inserm U955
Renal immunopathology and transplantation (Team 21)
Building R – Ground floor
Hôpital Henri Mondor
51, avenue du Maréchal De Lattre de Tassigny
94010 Créteil
France
Administrative assistant – Contact
Tél. : +33-1 49 81 43 91
Access map
Department news