Pharmacological strategies and experimental therapeutics for myocardial ischemia and heart failure
The team investigates the pathophysiology and pharmacology of coronary disease and cardiac failure. Our facilities are closely linked to Henri Mondor hospital (PHYDES department "Ageing-Thorax, Vessel, Blood" DHU) and involve two integrated and nearly located labs in the National Veterinary School of Maisons-Alfort (ENVA) and Creteil Medical School (Université Paris Est Créteil). For 2015-2019, the objectives are to further investigate the physiopathological mechanisms leading to left ventricular (LV) dysfunction and to develop original and innovative pharmacological strategies to prevent or reduce LV dysfunctions.
Our goal is to establish proofs of concepts
1) for new pharmacological/technological developments and
2) to promote translational clinical research.
Our first aim is to protect the heart and to reduce infarct size by targeting the mitochondrial cholesterol translocation with TSPO ligands or by using new molecules targeting the mitochondrial cyclophilin D. Protection of the coronary vasculature with angiopoietin-like 4 will be also a main topic of the team as well as impact of comorbidities such as obesity.
Our second aim is to evaluate the consequences of cardiac arrest by deciphering the benefits afforded by hypothermia with total liquid ventilation and developing specific liquid ventilators for clinical use.
Our third aim is to study LV dysfunction and its calcium-related mechanism in an original hypertensive pig model that develops diastolic dysfunction and ultimately heart failure with preserved ejection fraction.
All these objectives also include clinical translation with ongoing and new clinical trials. In addition, within ENVA, our programs will be extended to animals with spontaneous and/or genetic diseases (e.g., Golden Retriever Muscular Dystrophy dogs mimicking human Duchenne myopathy).
Finally, the team will remain highly involved in student training (doctoral school "Sciences de la Vie et de la Santé").
---
Selected publications
The team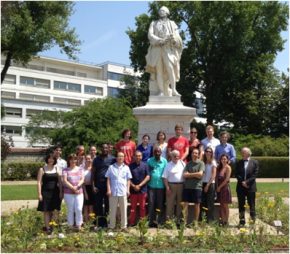 Composition
Address
IMRB – Inserm U955
Cardioprotection and pharmacology of coronary and cardiac failures (Team 3)
Faculty of Medicine at Créteil – 3rd floor
8, rue du Général Sarrail
94010 Créteil
France
Administrative assistant – Contact
Tél. : +33-1 49 81 35 30
Access map
Department news