Interventional neuropsychology
The team Interventional Neuropsychology (NPI) is a research unit affiliated to INSERM, UPEC, and Ecole Normale Supérieure of Paris and is headed by Prof. Anne-Catherine Bachoud-Lévi.
NPI is geographically settled in two sites:
– The Mondor Biomedical Research Institute (IMRB) located in the Faculty of Medicine of UPEC at Créteil
– the Institute for Cognitive studies (IEC) at Ecole Normale Supérieure in Paris.
Research topics :
Two major themes are investigated in our laboratory. The first one is the study of human communication and the cognitive processes involved in language and social cognition. The second one is a transverse research using innovative therapies like cells grafts, to restore cerebral tissues in the process of degeneration.
The originality of the team lies in the combination of clinical research on the development of new therapeutic approaches and basic research in cognition. This allows to study cognition and its degeneration in degenerative diseases as well as its restoration and the associated brain plasticity in patients enrolled in therapy program. This also allows to intervene for improving treatment and the care of patients with degenerative diseases, notably Huntington's disease.
NPI activity relies on the national reference centre for Huntington disease (AP-HP ; Henri Mondor Hospital ; Creteil)
The NPI approach is threefold:
1) Experimentations on healthy adults in order to develop new language and social cognition models.
2) Study of language and social cognition in brain-lesioned adults (stroke or neurodegenerative diseases such as Huntington disease and Parkinson disease).
3) Innovative therapies application (intracerebral grafts, gene therapies) to restore cognitive functions and understand functional recovery processes.
Keywords :
Language ; Psycholinguistics ; Linguistics ; Social cognition ; neurodegenerative disease ; Hintington ; Parkinson ; Intracerebral grafts ; Striatum ; fMRI ; EEG
External collaborations :
NPI is linking biological skills (research in bio-markers; imaging, genetics) and behavioural research (experimental psychology, ERP, PET scan, fMRI, VBM) thanks to collaboration with CEA and IHU-A-ICM.
http://icm-institute.org/fr/
http://i2bm.cea.fr/dsv/i2bm/Pages/MIRCen.aspx
Selected publications
Significant publications (2009-2015)
The team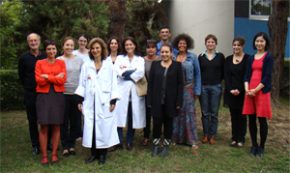 Composition
Address
Interventional neuropsychology (Team 1)
IMRB – Inserm U955
Faculty of Medicine at Créteil – 2nd floor
8, rue du général Sarrail
94011 Créteil
France
Administrative assistant – Contact
Tél. : +33-1 48 98 46 03
Tél. : 01 49 81 37 93
Access map
Department news