Genomic
Sequencing Common Service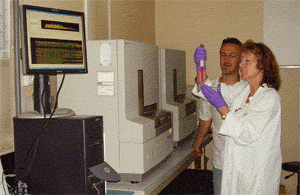 This service is located on the ground floor of the Henri Mondor hospital and open between 9am and 17:30 Monday to Friday.
Bruno Costes is responsible for this facility.
This service aims to meet the need for sequence and fragment analysis units and research teams of the IMRB and more generally of the UPEC (Université Paris Est Créteil).
Sequencing protocol (in progress)
Sequencing Request Sheet (in progress)
Facilities of the sequencing platform (in progress)