Improving the consent of Huntington's disease patients to clinical trials

Laurent Cleret de Langavant 's studies (from the Interventional Neuropsychology team headed by A-C Bachoud-Lévi) published in PloS One have been cited in the INSERM journal Science et Santé, issue n°26, July-August 2015, pages 18-19.
This work presents new recommendations on how to develop questionnaires for patients with neurodegenerative disorders prior to obtaining their consent to clinal trials.
See also the Publication in PLOS One, May 26, 2015.
Incoming seminars
Epigenetic control of memory T cell responses :
«Sebastian Amigorena - 12h – Amphi 5, 4ème étage de la Faculté de Médecine de Créteil»
(Title pending) :
«Ghislaine Filliatreau - 12h – Amphi 5, 4ème étage de la Faculté de Médecine de Créteil»
(Title pending) :
«Iluis Quintana-Murci - 12h – Amphi 5, 4ème étage de la Faculté de Médecine de Créteil»
---
All incoming seminars
Experts centers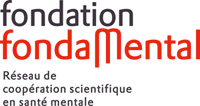 FondaMental Fondation
A research and medical care network for psychiatry
Read more

Vaccine research institute
An institute to foster the design of vaccines against HIV and hepatitis C
Read more